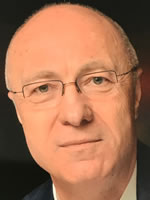 Haluk MIDOGLU M.D.
PARK YAŞAM OFİS A BLOK
Yalı Mah. 6523 Sok. 32 / A1 Girişi Kat:5 No:505
Park Yaşam Mavişehir Blokları arkası/Doğa Koleji yanı
Karşıyaka/İZMİR
Phone : +90.232.3644746
Fax : +90.232.3644745
hmidoglu@hotmail.com
hmidoglu@gmail.com

Dr. Haluk Midoglu was born in 1961. After he graduated from Ankara University Medical Faculty in 1984, he worked as general practitioner for 2 years. In 1986 he started his graduate degree in Plastic Surgery Department in Sivas Cumhuriyet University. In 1990 he transferred to Izmir 9 Eylül University Medical Faculty and in 1992 he completed his graduate degree in the same hospital. In 1988 he worked for Ankara GATA Burn Centre for 3 months. In 1992 he presented his thesis to National Plastic Surgery Congress and he won the second award in "Most Successful Clinical Study". After he completed his graduate degree, he worked in Cumhuriyet University Plastic Surgery Department for 2 years. Since 1994 he has been working in Izmir Karşıyaka State Hospital Plastic Surgery Clinic as consultant.

Since 2010 he has been working only his office.
| | |
| --- | --- |
| | |
| TPRECD Qualification Certificate | TPRECD Membership Certificate |
| | |